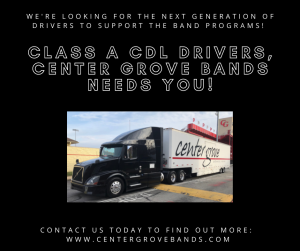 Center Grove Bands is in need of Semi Drivers for the Marching Band and Indoor Percussion seasons.
Applicants must have a Class A CDL and will be paid through the Center Grove Community School Corporation.
Most trips are on Saturdays however, there are occasionally some trips through the week. A schedule is issued at the beginning of the season with dates that semi drivers are needed.

Marching Band season is September through November
Indoor Percussion season is February through April

Please fill out the Interest Form HERE and we will contact you with more information.