Join us for the 37th Annual Cavalcade of Champions
at Center Grove High School!
October 8, 2022
---
Director Packet
Director Packet with timelines, maps, & important info:  Click HERE
---
Spectator Information:
TIMELINE – Click HERE
TICKETS – 
Admission is $8 for adults and $5 for seniors, students, and preschoolers. Children under age two will be admitted free of charge.  (Cash or credit card)
Gates will open one hour prior to the start of the first class.
LOCATION – Center Grove High School is located on the southeast corner of Morgantown Road and Stones Crossing Road.
2717 S. Morgantown Rd, Greenwood, IN 46143.
IMPORTANT TRAFFIC RESTRICTION –
There is a great deal of construction in and around Indianapolis and Greenwood right now.  
Please allow extra time to get here and check a real-time traffic app to hopefully avoid delays.
SR-37/I-69 is currently under construction

All SR-37/I-69 traffic should use the Smith Valley Road exit
PARKING – Click HERE for Parking Map. Spectator parking is located at the following addresses:
Middle School Central/ Center Grove Elementary (2455 S. Morgantown Greenwood, IN) which is north of the high school
Alternative Academy 2911 S. Morgantown Rd, Greenwood, IN 46143 which is south of the high school
Education Service Center 4800 Stones Crossing Rd, Greenwood, IN 46143 which is east of the high school
HANDICAP PARKING – From Morgantown Road – South of high school, turn (L) onto Pennington Drive and follow the signs to the handicap lot.  There will be shuttles running all day to help take spectators to the stadium.
CONCESSIONS – Concessions will be available in the football stadium. They will offer traditional sandwiches, snacks, soft drinks, bottled water, etc.
PROGRAM – Will be available to purchase at the spectator entrances to the stadium for $1.
Volunteer Info:
Contact Joe Trester cgtbbpresident@gmail.com
Volunteer Information Packet:  Click HERE
---
This afternoon/evening contest takes place at Center Grove High School one week prior to ISSMA Open Class Regionals (also held at Center Grove).
Excellent judging panel!
Glenn Fugett
Carl Bly
Kim Kuhn
Blair Kuhn
Matthew Stevens
Mike Bolla
Great vantage point for judges & lots of seating for spectators!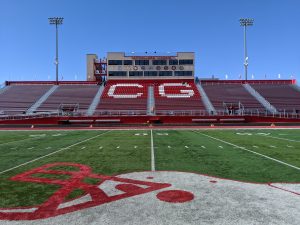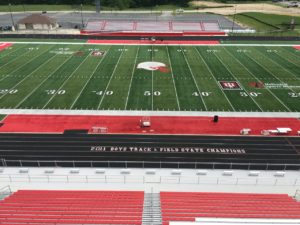 Exceptional Director Hospitality!
1.) Online Contest Application – Click HERE
2.) Entry Fee $250 – Mail check payable to CGTBB to the address below:
Center Grove High School, c/o Renee Skipper, Music Dept. Secretary
2717 S. Morgantown Road, Greenwood, IN 46143
Contact us with any questions:
Renee Skipper
317-881-0581 Ext. 4183
skipperr@centergrove.k12.in.us
---
Contact us with any questions!
Kevin Schuessler – Director of Bands
schuesslerk@centergrove.k12.in.us
317.881.0581, ext. 4184
Renee Skipper – Music Secretary
skipperr@centergrove.k12.in.us
317.881.0581, ext. 4183