Kevin Schuessler, Director of Bands (HS & MSC)
Kevin Schuessler is the current Director of Bands and Music Department Head at Center Grove High School, Greenwood, Indiana. Prior to being named the Director of Bands in 2001, Kevin was, for seven years, Associate Director of Bands where his responsibilities focused around directing the Symphonic Band, Program and Staff Coordinator of the Marching Band and Jazz Program. His current responsibilities include directing the Wind Ensemble, Marching Band, and Jazz Program while assisting the Wind Symphony, Symphonic Woodwinds and Symphonic Brass.
He holds a Masters of Music degree in Applied Horn from the University of Louisville, and a Bachelor of Science in Music Education from Indiana State University. He was formerly the Department Chair and Director of Bands at Lowell H.S. (IN) and Pendleton Heights H.S. (IN), and was Assistant Band Director at Herscher H.S. (IL).
Fourteen years of drum corps experience have included Star of Indiana, visual instructor (89-93); Northern Aurora (MI), program coordinator and brass caption head (86-88); and Phantom Regiment (IL), visual and French horn instructor (82-85) and marching member (80-81).
Josh Torres, Director of Percussion (HS & MSC)
Josh Torres currently serves as the Director of Percussion at Center Grove High School in Greenwood, IN. He also serves as the Adjunct Lecturer of Percussion at Franklin College in Franklin, IN. Josh earned his Bachelor's Degree in Music Performance from The University of North Texas and his Master's Degree in Percussion Performance from Butler University.
Center Grove Indoor Percussion is a consistent WGI Scholastic World Finalist and a four-time medalist. The Center Grove High School Marching Band is a perennial BOA Grand National Finalist, the 2009 BOA Class AAA National Champion, and a participant in the 2014 Macy's Thanksgiving Day Parade. The Center Grove High School Percussion Ensemble has also received several awards and honors including performances at the 2010 Midwest Band and Orchestra Clinic in Chicago, IL and a Percussive Arts Society Percussion Ensemble Showcase Concert at PASIC 2011 in Indianapolis, IN.
Josh currently serves as the director of the Indianapolis Colts (NFL) Drumline. In 2012, he served as the coordinator for the Super Bowl XLVI Drumline which performed the National Anthem with Kelly Clarkson and the Halftime Show with Madonna to over 113 million viewers. Josh serves on the WGI Advisory Board and is a Past-President of the Indiana Percussion Association and the Indiana Chapter of the Percussive Arts Society. He is proud to be an Innovative Percussion Artist, Pearl Educational Artist, Zildjian Artist, and a Remo Artist. Josh frequently travels across the country as a percussion adjudicator and clinician and previously served on the percussion staff of the Troopers Drum and Bugle Corps.
In 2012, Josh had the honor of being named Center Grove School Corporation's "Teacher of the Year." Josh was also named a "Top 10 Finalist" for the 2013 Indiana Teacher of the Year Award. In 2014, Josh was selected to receive a Teacher Creativity Fellowship from the Eli Lilly Foundation. Josh currently resides in Indianapolis, IN with his wonderfully supportive wife Audrey, head band director at Hamilton Southeastern High School, and their two sons Cameron and Alden.
Michael Bolla, Band Director (HS & MSN)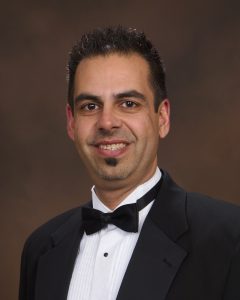 Michael Bolla is currently serving in his 19th year as the Director of Bands and Music Department Chair at Center Grove Middle School North, located in Greenwood, Indiana. In addition to his duties at Middle School North, he serves as an Assistant Director of the Center Grove High School Marching Band, and also is an advisor for the Center Grove High School Winter Color Guard Program. He is currently serving as president of the Indiana High School Color Guard Association (IHSCGA).
Michael is a graduate of Indiana University's Jacobs School of Music, where he performed as a trombonist in many of the school's top ensembles led by Ray Cramer, Stephen Pratt and the late David Baker.
Outside of Center Grove, Michael is an active clinician, adjudicator, arranger, and composer. He has served as a brass staff member for The Phantom Regiment Drum and Bugle Corps, The Madison Scouts Drum & Bugle Corps, and the brass caption head for The Colts Drum and Bugle Corps. Michael has arranged and composed for a number of marching bands throughout the United States. He also enjoys performing as a member of the Star United Drum and Bugle Corps, an all-age group that has won 12 of the last 14 Drum Corps Associates (DCA) mini corps championships. He is also the 6-time defending DCA individual baritone solo champion.
Michael currently resides in Indianapolis, Indiana with his wife, Susie, and their two dogs Lucy, and Betty.
Dan Herrick, Band Director (MSC)
Dan Herrick is currently in his 9th year as a band director, and his 1st year as Director of Bands at Center Grove Middle School Central. He has previously served as Assistant Band Director of Lawrence North High School, Assistant Director of the Marching Pride of Lawrence Township(MPLT), Head Director of Decatur Middle School, and Head Director of 2017 WGI Bronze Medalist Decatur Central Indoor Winds.
After graduating high school, Dan marched with the Blue Stars in the summer of 2009 before turning his focus to college. While at the Indiana University Jacobs School of Music, Dan studied tuba under Daniel Perantoni, while also receiving lessons from Roland Szentpali and Tony Kniffen. Dan was active in several ensembles at I.U. — concert bands, orchestras, marching band, basketball band, and even an opera. Dan studied under the baton of such conductors as Steven Pratt, Jeff Gershman, Paul Popiel, Dave Woodley, and Arthur Fagen through these ensembles. He also previously served as a tuba tech for the Mandarins Drum & Bugle Corps(2019-2020) and Troopers Drum & Bugle Corps (2015-2018).
Dan is married to his lovely and understanding wife Janessa, and they share their home with their three cats, Arya, Teddy, and Ella.
J.J. Peil, Band Director (MSN)
Joe Shimp, 7th & 8th Grade Percussion (MSN)
Mr. Shimp is a 1995 graduate of Center Grove Community School Corporation. As a student at Center Grove, he was a member of the band and choir. It was his experience in music at Center Grove that fostered his desire to teach the subject. He graduated from the Millikin University Conservatory of Music in Decatur, Illinois with a Bachelor of Music Education and from Boston University in Massachusetts with a Master of Music Education. After four years of teaching band, choir, and orchestra in southern California, he moved back in 2003 to teach orchestra and percussion at Center Grove Middle School North.
Tyler Richards, Color Guard Director

Tyler Richards has been involved in the colorguard activity for 18 years. He began his career in California, where he spun with his middle school and high school colorguards, and toured with Santa Clara Vanguard Drum and Bugle Corps during the summers. Past high school, he continued his performing career with The Cavaliers, Santa Clara Vanguard Winterguard, and toured the US and Japan with the broadway production, Blast! Currently, Tyler lives in Indianapolis and works with numerous programs including The Pride of Cincinnati, Carmel High School, Santa Clara Vanguard, and is beginning his 5th year working with the Center Grove band and colorguard.
Kim Rogowski, CGCGtoo Director
Renee Skipper, CGHS Music Department Secretary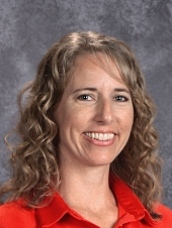 Renee Skipper is a Center Grove Band and Color Guard alumnus who earned an Associate's Degree in Business Management from Indiana Business College.  Married to her husband, Kevin, for over twenty five years, they have two daughters, McKenzie and Paige, who are also both CG graduates.  She's a proud supporter of the United States Air Force where her daughter and son-in-law are currently serving and loves spending time with family and friends enjoying the beautiful scenery at their lake house. Having taken a break from the business world to be a stay at home mom, Renee then taught pre-school at Emmanuel Church of Greenwood for several years.  In the fall of 2012, Renee joined the CGHS Music Department sharing her passion for organization and performing arts.
08-18-21