Raise Right Fundraiser
(Formerly SCRIP)
What is Raise Right?
Gift Card Fundraising at it's best!  Buy gift cards from your favorite brands to earn on your daily purchases like groceries, gas, dining out, that morning coffee, appliance or computer purchases, even your family's summer vacation.  It's super convenient!  You can shop, redeem, and even track your gift cards on your phone!  Don't forget about birthdays and holidays!  You can purchase physical gift cards to give as gifts.
How it works:
You buy a gift card. Select from 750+ popular brands, with options for eGift cards (available immediately), physical gift cards, and reloadable gift cards.  You get the full value.  ($50 cost for a $50 gift card.)
Earn funds For every gift card purchased, there is a percentage rebate (up to 20%) that comes from the gift card brand you are purchasing – their way of supporting organizations like Center Grove Trojan Band Boosters.
100% of the rebate goes towards the student's escrow account.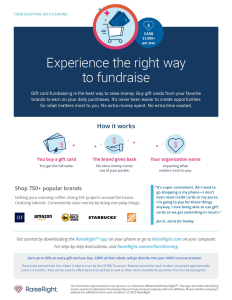 Step 1:  Get your enrollment code
To sign up and tie your earnings to the CGHS Band program and your student's escrow account, you will be asked for our unique enrollment code:  This will be sent out via Parent Square or feel free to contact the Raise Right coordinator at cgbandscrip@gmail.com to get the code.  In addition to the enrollment code, you only need a few more details to sign up, including:
First and last name
Email address
Phone number (for 2-step verification)
Child's first and last name & group they are involved in (Marching Band, Guard, Percussion, etc.)
Step 2:  Sign up account online
Complete the quick sign-up from either the Raise Right website  www.raiseright.com/  or the Raise Right mobile app
Click the "Sign Up" button
Select "Join an Existing Program"
Enter our unique CGHS Band enrollment code
Complete the fields to create your account – be sure to enter your child's information so rebates can be tied to their account
Enter and verify your phone number for 2-step verification (2-step verification protects your account if you forget your password or someone is using your account without your permission)
Step 3:  Set up online payment
Pay online with your bank account* From your Account page, choose Settings > Payment Options > Add Bank Account* Follow the steps to automatically link your bank account* There is a $0.29 fee on each transaction/order (multiple gift cards can be placed in one order)This is the most popular & secure way to pay for gift cards!  Get your eGift cards and reloaded funds instantly.
Pay online with your credit card* Visa, Mastercard, and Discover accepted* Option to save your credit card at checkout for future purchases* There is a 2.6% fee on each transaction.  A convenient way to pay, while still having instant access to eGift cards and reloaded funds.  (Remember, the transaction fee will reduce your earnings.)
Want to learn more about the Center Grove Trojan Band Booster's RaiseRight fundraiser?
Contact our coordinator, Kerri Fischer, at 734-657-0907 or cgbandscrip@gmail.com.
Have a question for RaiseRight?
Give them a call at 1-800-727-4715, option 3, or send them an email at Support@RaiseRight.com .